Today, Energize Ventures announced our latest investment. The company is Matroid, the category leader in computer vision software. Matroid plans to leverage the new funding to accelerate product development and go-to-market expansion in manufacturing, industrial IOT (IIOT), and video security markets.
The Energize Ventures "Why We Invested" post can be found here. And is also re-posted below for ease.
Here is a link to Matroid's press release.
This investment is an emblematic "Energize investment" with excellent leadership, technology-enabled product advantages, and clear commercial & market awareness. I am thrilled to be working with Reza Zadeh over the coming years.
If you are a reader and in the energy and industrial vertical, you should explore how Matroid can make computer vision accessible and valuable to your organization. We have been showing the power of Matroid to our LPs and energy & industrial network and the adoption is very strong.
Quotes from the Press Release
"Enterprises have tasted the value that software-defined sensors can provide, but are also feeling the pain of rolling out a conventional computer vision team," said Reza Zadeh, CEO and Founder of Matroid."Deployments of CV are constrained by Machine Learning engineering time, operator training time, camera interoperability, scaling AI computations, and the difficulty of iterating on neural networks performing important tasks like detailed inspection. With the Matroid product, we set a new standard for ease of use in deploying sensors. With this funding we are excited to take the next steps to bring software-defined sensors to manufacturing and industrial IOT enterprises."
"Reza and the Matroid team are building a world-class platform that marries the expertise of engineers and operators with next-generation computer vision technologies and machine learning algorithms," said John Tough, Managing Partner of Energize Ventures. "The Energize team is excited to deploy our financial, operational and industry capital to help Matroid capture market share in energy, industrials and IoT."
"As the renewable sector continues to grow, we must be on the forefront of new innovations and tools to push us into the future —new digital technologies like Matroid will expedite the energy transition" said Michael Polsky, Founder and CEO of Invenergy. Invenergy is a leading privately held, global developer and operator of sustainable energy solutions, and currently uses video data captured from drones to analyze the state of its wind turbines and other renewable energy sites.
WHY WE INVESTED
Energize Ventures is thrilled to lead the $20M Series B investment in Matroid, a category leader in computer vision software. Existing investors NEA and Intel Capital also participated in the round. Energize Managing Partner John Tough joins Matroid founder and CEO Reza Zadeh along with existing board member Pete Sonsini on the company's board.
Matroid's platform makes it simple for enterprises to rapidly deploy computer vision solutions to help automate the process of analyzing imagery data. In a "drag-and-drop" fashion, the software enables domain experts to train machine learning-based detectors that can automatically analyze vast visual data sets, eliminating the need for a data scientist.
Unlocking value in energy and industry
In energy and heavy industry, the physical world is increasingly documented by drones, cameras, satellites and other remote sensing technologies, creating a new bottleneck in analyzing the volume of imagery. Currently, many firms turn to teams of overly-qualified technicians and engineers to manually review troves of images – which is not only inefficient and costly, but also non-scalable and oftentimes inaccurate.
Computer vision is primed to dramatically improve efficiency and safety in these verticals. All energy and industrial companies perform inspections of their infrastructure, plants and equipment on a regular basis to conduct preventative maintenance and pre-empt failure. For example, wind farm operators typically inspect each wind turbine once every three years to identify cracks, lightning strikes, corrosion and other defects that might cause failure. Worker safety and compliance are also core principles for firms operating in dangerous environments. Computer vision can help ensure workers are wearing protective safety gear or identify dangerous gas or chemical spills invisible to the human eye.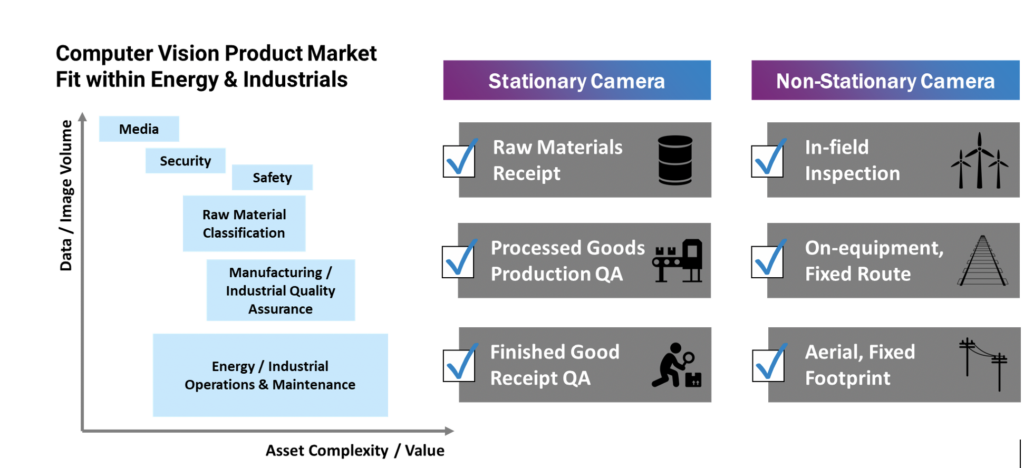 Matroid: Making computer vision simple and accessible to everyone
CEO Reza Zadeh launched Matroid in 2016, applying decades of research on computer vision and machine learning approaches to deliver a simple and intuitive solution for enterprises. Reza and the Matroid team recognized early on that typically only internal experts at a company possess the knowledge required to create, tag and deploy well-functioning computer vision solutions. However, most firms lack the experience and/or resources in data science and machine learning to integrate computer vision into their operations in a scalable, repeatable manner. To make better use of their imagery data, they needed a better computer vision tool. Enter Matroid.
An award-winning team obsessed with customer needs
Today, Matroid serves customers across manufacturing, energy, government, retail and security by helping reduce operating costs and increasing efficiency, safety and regulatory compliance. Its growing team of nearly 20 software engineers and data scientists draws from leading machine learning institutions such as Stanford, Carnegie Melon and MIT. In 2019, the company was named a "Cool Vendor" in AI Core Technologies by Gartner. Matroid currently partners with corporates such as Dell, HP Inc. and Eagle Eye Security offer a fully integrated solution across vision hardware, compute, networking and Matroid's software.
Energize believes computer vision will play a central role in harnessing the expertise of engineers and operators to digitize inspection, compliance and safety, quality assurance, construction and more. With the Series B investment, Matroid will continue developing its enterprise computer vision product features, expand sales, marketing and customer success, and double down on industry-leading research in applied machine learning. We are excited to help Reza and the broader Matroid team build the future of computer vision!