The Biden administration has been vocal in it's intent to advance an infrastructure bill that will help improve America's critical infrastructure. The size and scope of the bill has varied dramatically over the past 6 months.
Earlier this week, a bill with bipartisan support finally emerged. The chart below shows the sector-specific capital allocations within the bill, and how the amounts have changed since the first proposal.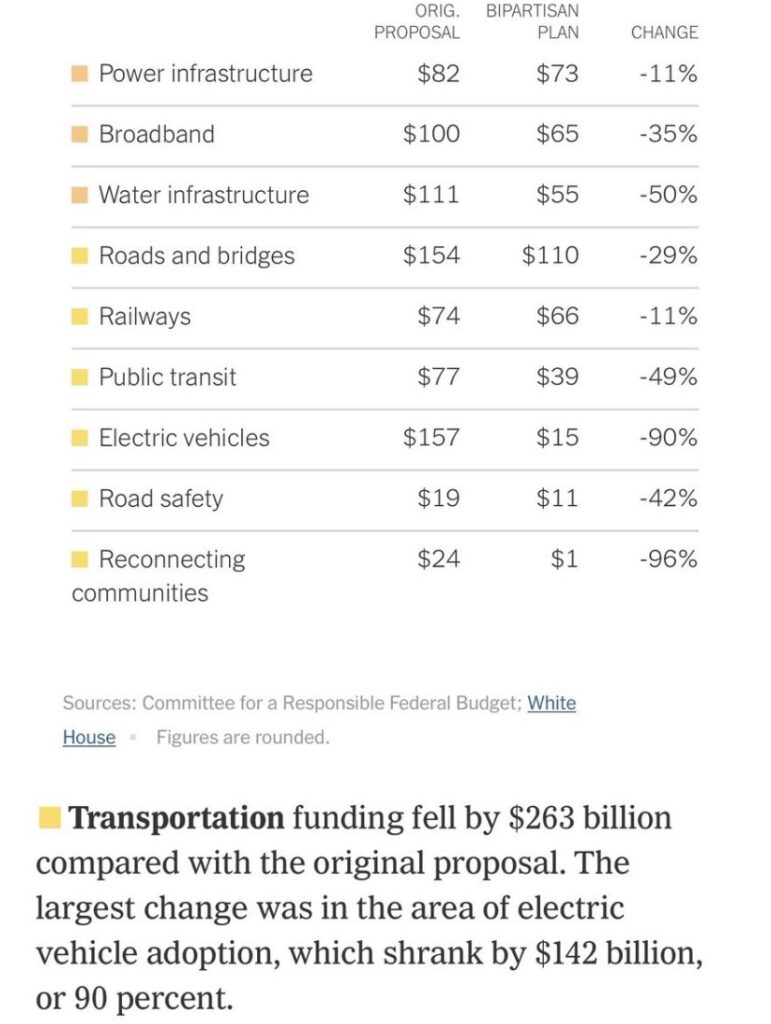 One area of critique in the energy community is the decline in scale of electric vehicle (& related) support. Most EV drivers receive a tax rebate with the purchase of an electric vehicle and the scale of that program going forward is going to get smaller.
I think that the lower tax incentive is just fine. Tax incentives are meant to help early adopters: in the 2010s, the cost to develop and deliver a new EV was quite high. By having a $7,500 per vehicle tax rebate for the purchaser, auto OEMs were more willing to commit to EV development knowing that a consumer would pay an effectively lower rate. But now, just read the news: EVs are going mainstream and as the technology goes mainstream, the tax support should subside.
Other areas, like our grid infrastructure, should receive the capital to help asset owners and capital providers increase the rate of return on traditionally low-return investments. EV charging straddles this logic: infrastructure but in the earlier stage of development and deployment. In my opinion, fiscal support should last another 3-5 years there until we have more consistent charging networks. But in general, I suspect the corporate community (destinations, OEMs) will take the reigns on driving EV charging network growth.
Overall, good to see our elected officials get a moderate infrastructure bill across the line.