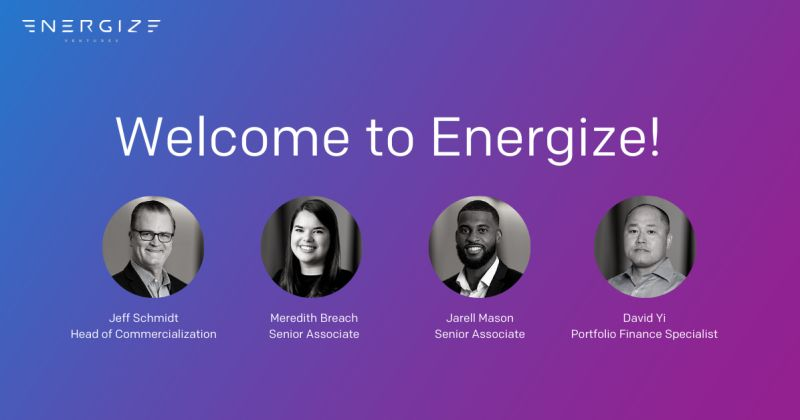 Choosing to Grow, Together- New Hires
Choosing to Grow, Together- New Hires
Here at Energize we have our "Ethos" on the wall in our main room… and speak about our core tenants frequently. One of those is "we choose to grow, together". The implication there is that we could stay relatively small and constrained. But, we want to scale with the space so we can continue to serve our entrepreneurs and LPs as the sustainability industry advances.
Part of that scale means bringing on new talent to help us achieve our goals. This week we formally announced that we added 4 new team members. I have mentioned some of them before on this blog, but worth the aggregate announcement as well!
Energize has built out a portfolio services group, (codename coming out soon!) and made two additional hires. First is Jeff Schmidt, Head of Commercialization. We first met Jeff through DroneDeploy and are very fortunate to have him full-time with us here in Chicago. He helps educate our investment team on all-things revenue and Go-To-Market…. and most importantly is an active advisor to our portfolio on their growth strategies in this area. He is already spending A LOT of time with our emerging companies and it is clear his skillset is truly rare. Jeff is also managing the commercialization relationships between our portfolio and our network.
David Yi and I go way back. I first met David in 2013 when he became the part-time CFO for Choose Energy. We worked together through the exit in 2016 and I have long considered him one of the smartest strategically oriented finance professionals in the Bay area. We have had him work with several of our portfolio companies already to get models/fundraise presentations ready and is the acting CFO for 2-3 of them right now as well. Hiring great finance leadership at the emerging stage is hard and we intend to make this a strength and resource for our portfolio.
On the investment side we added Meredith Breach to the Growth Equity platform. She joins us from Vista Equity and has hit the ground running. Her financial and executive partnership strategy is already paying major dividends. She and Kevin are a powerful duo.
And finally, we hired Jarell Mason as a Senior Associate to our Ventures platform. Jarell is a Chicago Booth MBA graduate and spent time in the traditional energy space prior to getting his MBA. Jarell is very active on our research deep dives already and I have been fortunate to work with him on the cybersecurity and OT ideas. He has a few special projects that we will be announcing soon, as well.
We will continue to add team members to accentuate our strengths and complement our weaknesses. Each of these employees makes Energize and our portfolio better. I am excited to see what they can accomplish.