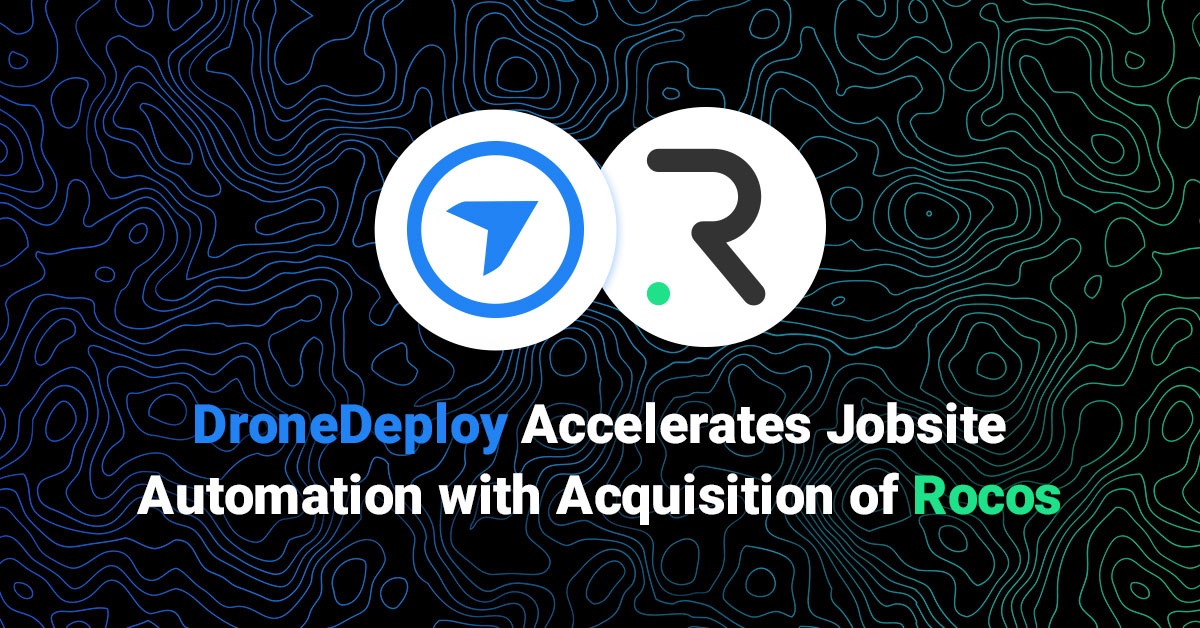 Marriage in Aerial & Ground-based Robotics: DroneDeploy + Rocos
Marriage in Aerial & Ground-based Robotics: DroneDeploy + Rocos
Many of the best technology companies are product led companies. Why? Successful product led companies build product roadmaps by listening to customer needs. By delivering a product that solves a real and present need, the technology company can find a way to capture a portion of the expanded value being created for their customer. On the financial metrics side of the equation this results in strong net dollar retention and year-over-year (high margin) revenue growth per customer. As I have said on this site before, DroneDeploy is a pinnace example of product led growth.
DroneDeploy's goal is to make drone data available to anyone, everywhere. The company is the leader in aerial drone software and has grown to be the leading aerial mapping, control and analytics platform. With thousands of customers, DroneDeploy continues to add several new products per quarter. Through ongoing customer engagement, DroneDeploy started to hear interest in having DroneDeploy expand to a more robust inside/on-the-ground product suite.
Enter Rocos, the leader in ground-based robotics management… and yesterday DroneDeploy revealed they acquired the company. The combination of DroneDeploy and Rocos is going to accelerate digital transformation for our critical industries. Large firms in the construction, agriculture, and energy industries are looking to simplify reality capture and this acquisition will allow DroneDeploy to present a single ground-to-air drone mapping, control and analytics platform.
Mike Winn, cofounder & CEO, is an extremely thoughtful leader at DroneDeploy. During the M&A process Mike focused as much on the product expansion, as well as the culture fit. It is clear that with David Inggs (cofounder & CEO) and the Rocos team now onboard, the teams are well-aligned and we are going to see even faster customer-led product innovation.
See the press release here, and also pasted below.
DroneDeploy has acquired Rocos, a New Zealand-based robotics software company. The acquisition will enable DroneDeploy customers in construction, energy, agriculture, and more to deploy and orchestrate both aerial and ground robots on their job sites. This acquisition will make physical workflow automation possible, creating more efficient and safer workplaces.
"Companies are undergoing a digital transformation accelerated by challenges surrounding labor shortages and COVID-driven remote operations. As a result, the market demand for automatic site documentation and digital twins has soared," said Mike Winn, CEO and co-founder of DroneDeploy. "With the Rocos acquisition, we are enabling our customers to automate ground-level data capture, moving several steps closer to a complete automation solution."
DroneDeploy is already the market share leader in drone software, powering the world's largest companies to capture an instant understanding of their assets and operations through aerial imagery. Now, with the extension to on-the-ground robots, workers will soon be able to establish automated routines within the platform from both the air and the ground. For example, a solar technician could program a drone to fly over a solar power plant, identify thermal hotspots, and automatically activate ground robots to walk under the hotspot to identify the exact problem – no human intervention needed. This process will save time, resources and human labor, freeing workers to focus on other tasks.
"A few years ago, drones made the leap from hobbyist toys to enterprise tools. Now, ground robotics is on a similar trajectory," said David Inggs, former CEO and co-founder of Rocos, now DroneDeploy's Head of Ground Robotics. "With the addition of the Rocos' ground robotics technology, DroneDeploy can now automate critical data workflows across both air and ground use cases, enabling greater safety and efficiency for the whole worksite."
DroneDeploy has already begun integrating Rocos' robotic control with its indoor data processing technology to deliver autonomous 360 Walkthrough and inspection at scale. The company will launch the new offerings at its annual DroneDeploy Conference this October.
The acquisition follows DroneDeploy's recent $50M Series E funding round and continued growth, as enterprise drone data collection operations increased 95% in Q2 2021.