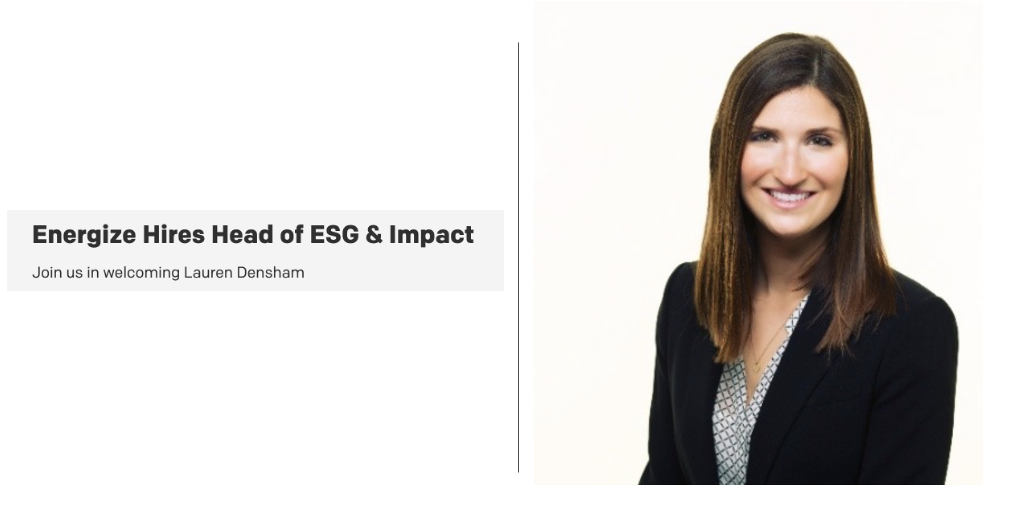 Hiring Lauren Densham, and doubling down on Impact & ESG
Hiring Lauren Densham, and doubling down on Impact & ESG
The times they are changing… for the better. Late last week, Energize announced that we hired Lauren Densham as our Head of Impact and ESG. Lauren comes to us from KPMG, where she was most recently a Director of Infrastrucutre & ESG Strategy. In that role, Lauren brought a corporate strategy mindset to the public sector, helping infrastructure owners to evolve their strategies and maximize impact. She also spent time advising investment firms on their strategies in the space.
This new role is a natural fit here at Energize. We believe that the top tier, next generation asset managers will embrace the impact potential of their portfolio, and accordingly track and improve the ESG metrics for each company. At Energize we believe that great returns and great impact are aligned and sacrifices are no longer required to independently attain each return target. When we were evaluating the landscape of clients, Lauren quickly rose to the top of the list. She quickly grasped the opportunity that early stage investors can play in helping establish consistency and centrality in the metrics and targets that our industry aspires to achieve.
One of my favorite recruiting strategies is to have candidates help define both their role and the success of the role. Energize is (currently) a small team early on in our journey. At this stage we need professionals that can both create and own the upside potential for their area of expertise. During the interview process, Lauren began educating our team and the page below was the start to her framework. So many individuals intertwine "Impact" and "ESG" and this chart shows the purpose of each area.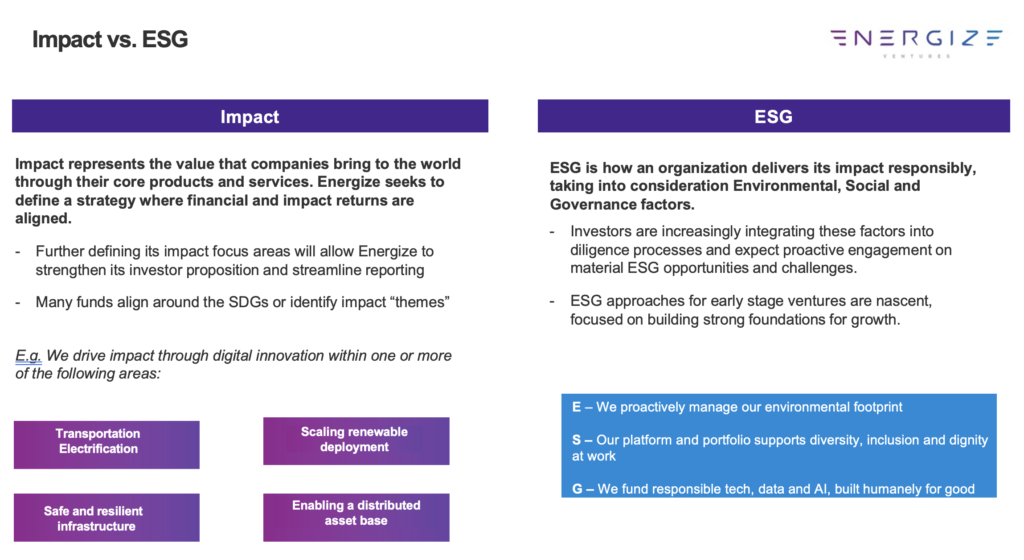 What happens next with Lauren here at Energize?
She is already going full-speed with us here and you will see a lot of research, data, and planning coming from our team on this topic in the coming year. In her role, Lauren is going to help our investment team track ESG metrics and hurdles in our investment process. She is also going to help our portfolio companies set their impact strategies and track and improve their ESG metrics. As if that isn't enough, Lauren is also going to help these firms and other stakeholders in the Energize ecosystem more consistently message our aligned ESG metrics so that the impact investing thesis can be aligned towards a real, tangible definition of success. At Energize we encourage our entrepreneurs to "own the problem" and become associated with delivering a technology/solution that serves a market movement. With Lauren, we intend to grow into that impact leader role by delivering impact strategies to our portfolio and creating and executing an ESG best practice playbook for our budding ecosystem. Given Lauren's experience and teamwork attitude, I am excited for you all to follow her lead on this theme.